3D Design & Engineering Conference: making 3D printing part of every designer's DNA
3D Design & Engineering Conference
On May 24, 2016, the 2nd edition of the 3D Design & Engineering Conference will take place at Club-C in Eindhoven, The Netherlands.
Flam3D is media-partner of the conference. Contact us for special rates for our members.
The 3DDE Conference offers design and engineering professionals the chance to learn and meet the possibilities of 3D printing, and to look at design challenges from different perspectives.
The following topics will be covered during the conference: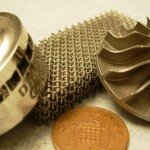 The 3D printing value chain
Visualisation tools, and 3D design & 3D engineering tools
The integrated workflow
3DDE education and studies
Virtual Engineering
Topology Optimization
Validation
Creative thinking in the design process
IP, liability, legal and technical issues
Reverse engineering of 3D products
Postprocessing, essential for 3D printed products
Who should attend?
Any person who is involved in developing products using 3D printing, from designer to engineer, from researcher to 3D printer manufacturer and from material manufacturer to software developer. We invite you to visit the website to find out why you should attend the full day conference.
Fast facts about the importance of 3D Design & Engineering
Thinking beyond prototyping. 3D printing is not just a prototyping technology anymore, it is a manufacturing technology which requires a different way of thinking. A designer needs to know the ins and outs of the product, and is required to learn new skills and approaches to become a real professional in 3D Design & Engineering. Many aspects should be considered: how will it function, what should it be supporting, what is the optimal construction?
The 3D printing technology allows the designer to stay closer to the final product. Potential problems or defaults in the design can be iterated quickly, making it easier to adjust and solve inefficiencies. In other words, 3D printing supports an improved product lifecycle management.
Find more about the previous edition.
Get social! Be informed about the 3D Design & Engineering Conference and receive the latest 3D printing, designing, engineering and content news. Follow @3ddeconference and join the LinkedIn conversation.